JEUMONT ELECTRIC AND THE UNIVERSITY OF ADELAIDE SIGN
TECHNOLOGY PARTNERSHIP AGREEMENT
20171004
Corporate
Sydney/Paris – 03/10/2017 – Meeting at the PACIFIC 2017 exposition in Sydney, the University of Adelaide, represented by its Acting Deputy Vice-Chancellor Research Professor Julie Owens, and the French Company Jeumont Electric, represented by its President Mr Brahim Ammar, today announce the signature of an agreement to establish a collaboration programme between the two entities. This will take place at 12.30 on Jeumont Electric booth.
JEUMONT ELECTRIC SIGNE UN PARTENARIAT
D'ETUDES AVEC L'UNIVERSITE D'ADELAIDE
04/10/2017
Corporate
Sydney, Paris – 03/10/2017 – A l'occasion du salon Pacific à Sydney (Australie), l'Université d'Adelaide, en Australie, représentée par Mme Julie Owens, Deputy Vice-Chancellor de la Recherche (par intérim) et la société française Jeumont Electric, représentée par son Président, M. Brahim Ammar, ont signé ce jour un accord pour la mise en œuvre d'un programme de collaboration entre les deux entités.
Download the press release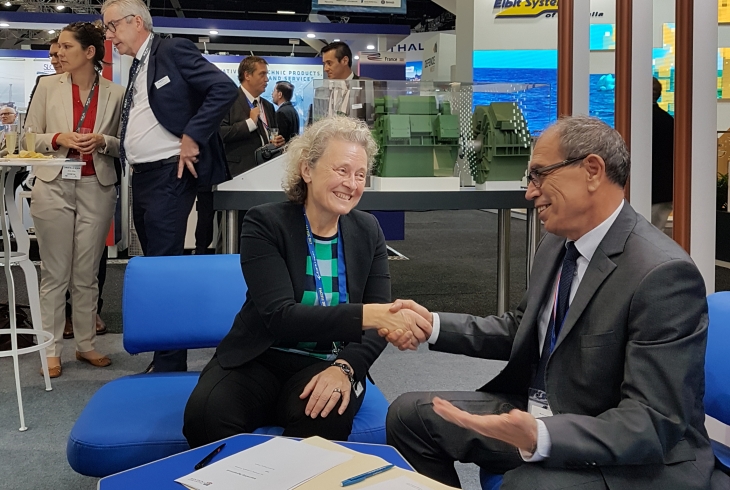 JEUMONT ELECTRIC FORNECERÁ O MAIOR MOTOR SÍNCRONO COM IMÃ PERMANENTE
MOTOR SÍNCRONO COM IMÃ PERMANENTE
20151103
MARINHA
A Jeumont Electric forneceu o maior e mais potente motor síncrono com imã permanente para a Marinha Brasileira. A primeira vez na história mundial! Esta entrega foi acompanhada dos necessários painéis de conversão de potência e será completada com 4 semanas de treinamento
JEUMONT ELECTRIC FORNECERÁ
2 MOTORES DE PROPULSÃO PARA A SAAB KOCKUMS AB
20151120

Warning: current() expects parameter 1 to be array, string given in /home/digitalevp/www/wp-content/themes/bst-master/functions/ajax.php on line 55

Notice: Undefined property: WP_Error::$name in /home/digitalevp/www/wp-content/themes/bst-master/functions/ajax.php on line 56

A Jeumont Electric foi escolhida pela SAAB Kockums AB para o projeto Kockums, trabalhando em estreita cooperação com a Schneider Electric para fornecer um sistema completo para o submarino da marinha sueca A26. Este sistema é composto de 2 motores de propulsão, cubículos conversores, disjuntores de propulsão, baterias e I & C.
Jeumont Electric é um dos cinco principais fornecedores
no programa de submarinos da Austrália
20160509
MARINHA
Jeumont, França, 09 de maio de 2016 – A Jeumont Electric anunciou hoje que foi selecionada como um dos principais fornecedores no futuro programa Submarine Mar 1000 do governo australiano.
Jeumont Electric ist einer der wichtigsten fünf Lieferanten
des australischen U-Boot-Programms
20160509
Marine
Jeumont, Frankreich, 9. Mai 2016 -- Wie Jeumont Electric heute bekanntgab, wurde das Unternehmen als einer der Hauptlieferanten des U-Boot-Programms Sea 1000 der australischen Regierung ausgewählt.
Jeumont Electric one of the top five suppliers
in Australian submarine program
20160509
Marine
Jeumont Electric announced today that it has been selected as a major supplier in the Australian government's Sea 1000 Future Submarine Program; French naval defense and energy company DCNS is the Australian government's exclusive partner on the program.
JEUMONT ELECTRIC DANS LE TOP 5 DES PRESTATAIRES
POUR LE PROJET AUSTRALIEN
10/05/2016
Produits
Jeumont Electric a été retenu comme fournisseur clé dans le cadre du programme Sea 1000, pour lequel DCNS vient d'être officiellement choisi comme partenaire exclusif par les autorités australiennes…
Download the press release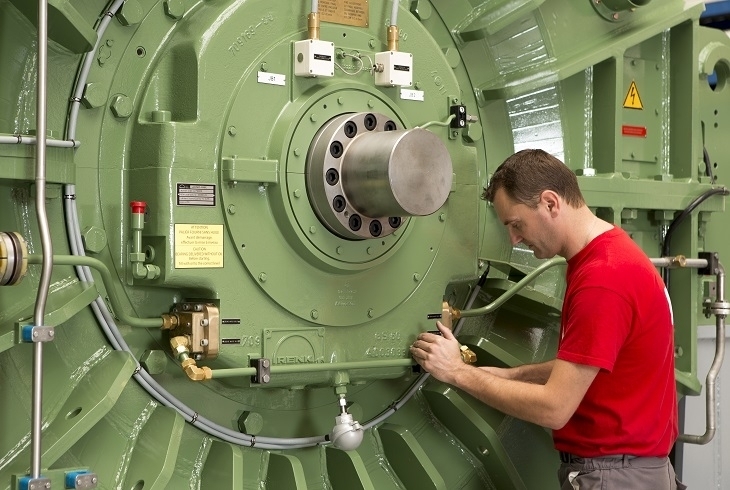 Jeumont Electric liefert zwei Antriebsmotoren für Saab Kockums AB
zwei Antriebsmotoren für Saab Kockums AB
20151120
Produits
Das Schiffsbauunternehmen Saab Kockums AB hat Jeumont Electric gemeinsam mit Schneider Electric als Lieferant für ein Komplettsystem ausgewählt, welches das U-Boot A26 der schwedischen Seestreitkräfte antreiben soll. Das System umfasst zwei Antriebsmotoren, Wandlerschränke, Antriebsunterbrecher, Akkus und das Kommando-Steuer-System.
JEUMONT ELECTRIC TO SUPPLY
2 PROPULSION MOTORS TO SAAB KOCKUMS AB
20151120
Products
Jeumont Electric has been chosen by SAAB Kockums AB for the Kockums project, working in close cooperation with Schneider Electric to supply a complete system for the Swedish navy's A26 submarine. This system comprises 2 propulsion motors, the converter cubicles, the propulsion circuit breakers, batteries and I&C.
JEUMONT ELECTRIC FOURNIRA
2 MOTEURS DE PROPULSION À SAAB KOCKUMS AB
20/11/2015
Produits
Jeumont Electric est choisi par SAAB Kockums AB pour le projet Kockums en collaboration étroite avec  Schneider Electric en fournissant à la marine Suédoise le système complet pour le sous-marin A26. Ce système comprend 2 moteurs de propulsion, les armoires de convertisseurs, les disjoncteurs de propulsion, les batteries et le contrôle commande.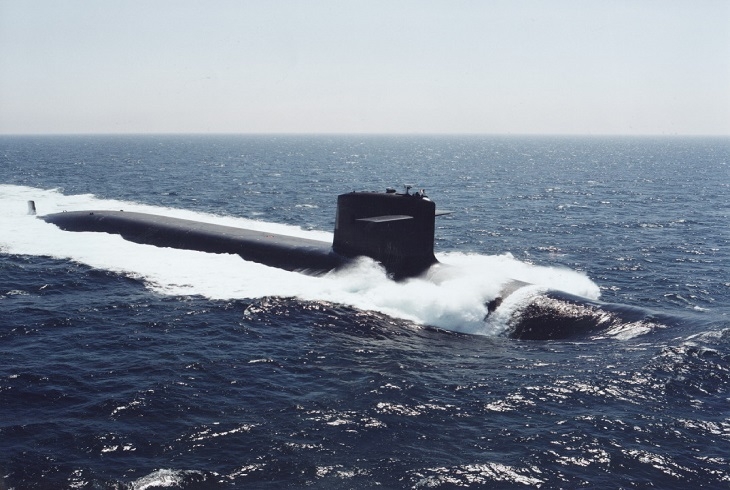 JEUMONT ELECTRIC ENTREGA
EL MAYOR MOTOR SÍNCRONO DE IMANES PERMANENTES
20151103
Marchés
Jeumont Electric ha entregado a la marina brasileña el motor síncrono de imanes permanentes más grande y más potente del mundo, acompañado de los armarios de los convertidores de potencia. 4 sesiones de 2 semanas de formación técnica en el proyecto completan este conjunto...
Jeumont Electric liefert
den weltgrößten synchronen Permanentmagnet-Motor
20151103
Marchés
Jeumont Electric gab heute bekannt, dass man demnächst den größten und stärksten synchronen Permanent-Magnetmotor an die brasilianische Marine liefern wird. Die Bestellung umfasst auch Jeumont Electric-Schaltschränke und für zweiwöchige Techniktrainings.
JEUMONT ELECTRIC TO DELIVER
THE LARGEST PMG SYNCHRONOUS MOTOR
20151103
Marine
Jeumont Electric has delivered the largest and most powerful PMG synchronous motor ever to the Brazilian navy. A world premier! It was accompanied by the necessary power converter cubicles. And will be completed with four two-week training sessions.
JEUMONT ELECTRIC LIVRE
LE PLUS GROS MOTEUR SYNCHRONE À AIMANTS PERMANENTS
03/11/2015
Marchés
Jeumont Electric a livré à la marine brésilienne, le plus grand et le plus puissant moteur synchrone à aimants permanents jamais fourni au monde. Il est accompagné de ses armoires de convertisseurs de puissance. 4 sessions de 2 semaines de formation technique au projet complètent cet ensemble…
Download the press release