Jeumont Electric provides efficient, turnkey support to assess and service your equipment. These include diagnosis, repair, disassembly and reassembly, refurbishment and retro-engineering.
OUR MAIN CORRECTIVE ACTIONS ARE:
• stator rewinding with Roebel bars or coils with VPI insulation
• rewinding the rotor using the original technology or using an improved process (cooling, wedging, etc.)
• water box repairs on water-cooled stators using a process patented by Jeumont Electric (SURJIBOX).
FOR THE RECORD:
Jeumont Electric performs major maintenance operations on the entire stock of EDF's 900, 1300 and 1450 MW turbines for the 58 units of France's nuclear power plants. This includes on-site stator and rotor changeouts with optimal downtime or rewinding 900 MW rotors in the factory before installing and commissioning them on site.
REQUALIFICATION, REFURBISHMENT AND OPTIMISATION OF
ROTATING MACHINES
We continue to build on our century-old know-how in engineering and manufacturing to offer our customers our wide experience in the maintenance of turbo-generators, generators and induction motors. We don't limit our services to equipment manufactured by us but can also maintain a large range of machines of all makes, types and technologies, irrespective of their age or particularities.
We are able to retrofit and manufacture components or complete machines, according to your needs.
By means of a data base linked to the design codes, we can modify the original design of a machine in order to improve its efficiency and its life cycle without affecting the broader specifications of the plant.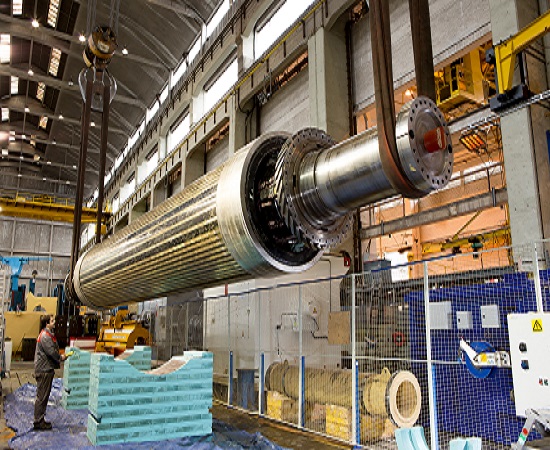 RENOVATION
OF EXCITATION SYSTEMS
Jeumont Electric refurbishes excitation or voltage regulation systems made by all OEMs, using new components while ensuring the functionalities remain unchanged.
FOR THE RECORD:
Jeumont Electric has an order from EDF for 10 complete assemblies for its Fessenheim, Tricastin and Dampierre NPPs. Jeumont Electric thus contributes to maintaining the availability of the French nuclear power plants.